Support Grigory Pasko!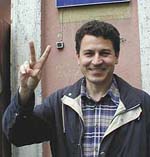 Dear friends! Grigory Pasko, journalist and SEU member, after six years of investigation, courts and prison is finally free. We want to thank all who, in solidarity, kept sending letters and faxes to Russian authorities deamanding to free Grigory.
These two articles from Bellona Web will give you more details of the event.
Articles from Bellona Web:
Grigory Pasko Free At Last
Military journalist and environmental whistleblower Grigory Pasko - who has for five years fought to clear his name of espionage charges - was finally set free today at a parole hearing in Ussuriysk, Far Eastern Russia. His freedom brings to a close a campaign of harassment by the Federal Security Service that saw him branded as a traitor for his reporting on the Russian Pacific Fleet and its irresponsible handling of its nuclear waste. More....
Grigory Pasko was convicted for four years in labour camp on high treason charges on December 25th. The Pacific Fleet Military Court in Vladivostok said in the verdict that Pasko had the intention to pass over to a Japanese journalist a classified document. The 20 months he has earlier spent in custody reduce the overall term down to two years and four months. For details >>>
Chronicle
The Case of Grigory Pasko: Long Way to Justice
Supreme Court Upholds Pasko Treason Sentence
All-Russian action in support of Grigory Pasko
January, 25. Memorial Day of the Freedom of Speech
January, 7. The Iron Felix is Back?!
What YOU CAN DO to support Russian journalist and ecologist Pasko
Additional information:
The Pasko case in Bellona web-site
You can support Grigory by providing links from your sites to Grigory Pasko pages