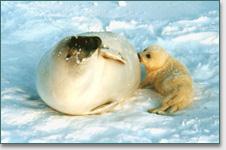 Save the Seal Pups
The problem
Recently news agencies have published the information about resuming of slaughter of seal pups of the Greenland seal in Murmansk region (north-west of Russia), the process which was almost completely stopped 3 years ago.
Management of the new fishing collective farm "Chapoma", which bought the property of bankrupt collective farm, now says of their "grandiose plans" of resuming of seal-fishery, and it seems to be that it will be resumed with even more cruel methods.
"Chapoma" intend to sale fur of suint: catching whitecoats and keeping them in enclosure for some time till they turn into suint. The management of "Chapoma" plans also to extend their consumers market for account of consumers in Leningrad region and Kareliya, and intends to establish long-term co-operation with Norwegian company "Riber Skin". They prospect also to get the grant of TACIS to develop their activity.
Latest events
To stop this cruel business, we started campaign, demanding President Vladimir Putin to lift his veto off the law "About Protection of Animals Against Cruel Treatment", which would ban the seal pups` slaughtery.
People are sending letters and telegrams. There is a special way to participate for children - "Picture for the President". Children are drawing seal cubs and sending their pictures to president Putin.
You can see some of the drawings at www.seu.ru/projects/tuleni/pictures.htm
This picture says: President, they are kids, not skins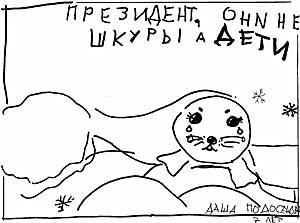 Please join the action and send your letter to President Putin!
Address
To the President of Russian Federation,
Vladimir Putin
4 Staraya Ploschad, Moscow, Russia 103132
Fax: 7 (095) 205-4330, 206-5173
To the Chairman of Government of Russian Federation
Mikhail Kassianov
2 Podchelskaya St., Moscow, Russia 103274
2 Krasnopresnenskaya Nab., Moscow, Russia 103274
Fax: 7 (095) 205-67-70
Information and comments
SEAL SLAUGHTERY IMPENDS TO BE RESUMED IN MURMANSK REGION
SEAL-PUPS NEED YOUR PROTECTION
"THEY ARE KIDS, NOT SKINS": CHILDREN FROM URAL SEND LETTERS TO RUSSIAN PRESIDENT FOR PROTECTION OF WHITECOATS