Nature in War
HUMAN RESOURCES
Arrests of Children
Israeli law and regulations provide for the special treatment of juvenile offenders, i.e. children under the age of 18. Police Standing Order 14.01.05 sets down the following procedures:
In general children are to be brought by their parent or guardian for investigation to a police station;
Questioning of children must generally be done during the day;
With certain exceptions, the questioning of a child is carried out by a specially-trained police youth officer;
Children are not to be handcuffed except in extraordinary circumstances, such as if the child is known to be violent has attempted to abscond from lawful custody in the past, or there are reasonable grounds to believe that the child will tamper with evidence.
Amnesty International in its report titled Mass Arrests and Police Brutality indicates that the police have not followed their own procedures when arresting and detaining Palestinian children. As a matter of routine, the police have arrested children rather than inviting them for investigation to police stations with their parents. Children have often been arrested late at night or early in the morning and interrogated soon after they reached the police station. Children have been handcuffed following arrest and during interrogation. Children have been reportedly beaten by police officers.
Lawyers affirm, with evidence, that in many cases children had been interrogated by ordinary interrogators or by a combination of ordinary interrogators and a special youth investigator. A great deal of psychological pressure had been placed on some children - they had been shouted at, insulted and threatened during interrogation. Such conduct contravenes international standards, including Principle 21 of the Body of Principles for the Protection of All Persons under any Form of Detention or Imprisonment and Article 40(2)(iv) of the Convention on the Rights of the Child, which prohibit taking undue advantage of the situation of detained persons for the purpose of compelling them to confess, incriminate themselves or provide information against other people. The police's behavior in such cases also contravenes Article 37(c) of the Convention on the Rights of the Child which states: "Every child deprived of liberty shall be treated with humanity and respect for the inherent dignity of the human person, and in a manner which takes into account the needs of persons of his or her age..."
Neither Israel nor much of the international media is actually interested in disclosing some very basic facts that help explain the large presence of children in conflict: that 60% of Palestinians are below the age of 15, that Palestinian children grow up beneath the boot of occupation, that on a daily basis they watch Israeli soldiers demolish their homes, beat up their fathers, mothers, and brothers, confiscate their land, imprison and torture their relatives, that Israeli settlers act with impunity terrorizing their villages, and uprooting their crops. Of course to mention this would be to humanize the Palestinians too much, and when you do that, then people actually begin to see that the Palestinians are the victims of a great systematic oppression, living beneath a brutal occupation in which their means of defense are often limited to stones (www.pna.net).
Schools
Two schools were evacuated on Nov. 20 in Balata Refugee camp after suspicious objects were reported in the schools. Palestinian security personnel identified the objects as explosive devices that explode upon touch. A similar object exploded when a 7-year-old child found it and began playing with the object, resulting in serious injuries to the child. Israeli media also reported earlier that week that Israeli settlers and Jewish fundamentalist groups are forming cells to plant explosives in Palestinian towns and villages.
Israeli soldiers also attacked several schools in Gaza strip, Jenin, Hebron, Bethlehem and Ramallah while classes were in session; throwing gas canisters into the school and shooting live ammunition. Following the attacks, the Israeli military entered the schools while students were still trapped inside and started beating a number of students, and collected all of the gas canisters thrown during the attacks. In several incidents, numerous students have suffered from gas suffocation while in few others no injuries were reported, but the school was shot down and students sent home for their safety.
Assaults against Healthcare Professionals
UNRWA states that the continuing Israeli encirclement of the Palestinian occupied territories is causing severe shortages in medical supplies in Palestinian hospitals. Medical equipment and large amounts of medicine and baby milk destined for PT are not allowed into the Palestinian territories. Several sources report that on Nov. 21, the medicine is detained at Al- Areesh airport in Sinai- Egypt waiting for clearance to move it into Gaza.
Ambulances were unable to reach those injured in the confrontations because of continued shelling and designated snipers in the conflict areas. In places where bombardments were taking place, first aid directions were administered over the phone to those in need of assistance. Israeli settlers attack and prevent Palestinian ambulances transporting patients to arrive to the respective hospitals. One of these ambulances was that which was transporting Jadou' Mani' Jadou' Abu Ikbash, 16 years old from Samou', Hebron, who was shot by live ammunition to his chest. The ambulance was detained for over four hours before it was allowed to proceed. Jadou' died of his injuries.
These infractions have surpassed the children and ambulance drivers to reach the healing souls of doctors. Dr. Harry Fischer, a 50 year old German doctor, married to a resident of Beit Jala and living in the village for almost 20 years, was killed while attempting to assist those injured during one of the repeated attacks. He was hit directly by a tank shell, killing him instantly. Moreover, Israeli occupation authorities prevent injured Palestinians from returning home after they received medical treatments in neighboring hospitals.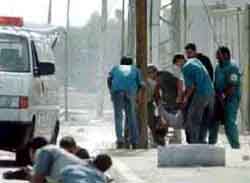 Figure 1: Palestinian Red Crescent Society under Attack.
Assassinations
Raed Sa'di Jameel Al Muhtaseb, 25 years old from Hebron, was killed the evening of Nov. 10 by heavy machine gun fire while in his car. He was traveling in his car with his father when live ammunition hit him through his car, killing him instantly. This gruesome and new escalation of the already horrifying situation against unarmed civilians have broken all rules and had to be inspired by a well trained and provided for sadist who is able to sleep at night after killing a whole society through murdering its individuals. In Gaza, the sadist military opened fire from tanks stationed on the road between Rafah and Khan Younis on the entrance to Miroge settlement at two Palestinian cars. According to eyewitnesses, the shooting lasted for approximately four minutes and resulted in the death of four passengers and the injury of eight others. The corpses of those killed were held by the Israeli military for at least four hours before they were handed over to the Palestinian Authority. The fate of those injured and their exact number, having been immediately removed from the scene of the incident by the Israeli military, remains unknown.
The Palestinian Red Crescent Society reports that as of Dec. 10 the total death have reached 288 and the injuries are 10330, in accordance with the following charts imported from www.Palestinercs.org: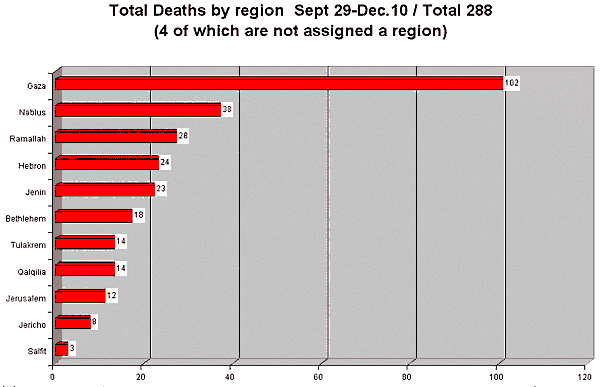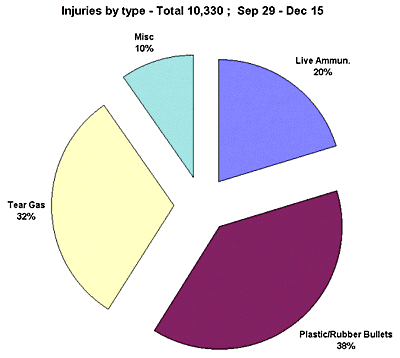 The question is not why Palestinians target settlers and soldiers, but why the settlers and soldiers are in the middle of Palestinian land in the first place. We are talking about an Israeli government that subsidizes housing and provides benefits to Israeli families to come and settle on confiscated Palestinian land, against International law and the Fourth Geneva Convention. And when Palestinians resist such onslaughts (in resistance protected by International Law) they are termed terrorists who seek the death of Israeli children.
Cynicism however cuts both ways. One must be reminded then of the IDF spokesperson, who recommends to those who "don't want his children to be hurt" not to "send them to a front where a war is going on", that this also applies to places where an occupation is in full swing. (www.sis.gov.ps)
---